Using Intelligent Robotics Solution in Promoting Preventive Healthcare & Sanitation at Vaccination Centre
Cyber Robotics Malaysia (a Business Unit of MSC Cyberport Sdn Bhd and Cybersolution Technologies Sdn Bhd), are delighted to be participated in the CSR program under "Program Vaksin Bergerak Prihatin Johor" at Dewan Serbaguna PPR (Projek Perumahan Rakyat) Sri Stulang Vaccination Centre on 18 th July 2021, Sunday and 22 nd July 2021, Thursday. Our CSR Committee is set-up with an initiative to serve the community such as the frontliners, the volunteers and the residents at Sri Stulang who come for their vaccination injection via our intelligent robotics solution. (Note: The Prihatin Johor Mobile Vaccine Program is a Prihatin Johor initiative that has the close cooperation of the Johor State District Health Office, Waqaf AnNur and the PPR Sri Stulang Residents Association.)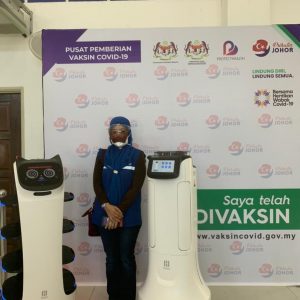 YBhg Datuk Hjh Azlinda Binti Abdul Latif, Advisor of Pertubuhan Kebajikan Kita Prihatin Negeri Johor (PRIHATIN JOHOR) together with our BellaBot &Puductor2.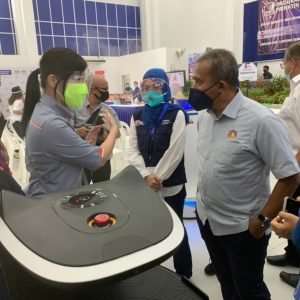 One of our CSR Committee Ms Amanda was explaining on how Bellabot functions to Ybhg Dato' Haji Adib Azhari Bin Daud, Datuk Bandar, Majlis Bandaraya Johor Bahru at the Vaccination Centre.
We are so proud that this CSR initiative has made Dewan Sebaguna PPR Sri Stulang, the first Vaccination Centre in Malaysia using Intelligent Robots as their assistants to ensure the vaccination process running smoothly. We placed Puductor2 (Autonomous Disinfection Robot) & BellaBot (Premium Delivery Robot) throughout the vaccination day. We used Puductor2 to sanitise the entire vaccination centre by using the dry mist technology this is to ensure public safety. On the hand, Bellabot was also busy helping out the volunteers for delivering documents from one counter to another counter, this is to improve efficiency and achieve contactless delivery. 
As all of us know, COVID-19 has changed our way of living. No-contact operations will be crucial for the foreseeable future. With true no-contact functions and double disinfection modules, Puductor2, the UV cleaning robot combined with air disinfection machine, minimizes the risk of cross infection and improves sanitary condition for indoor environment at the centre. Meanwhile, BellaBot inherits the outstanding characteristics and being endowed with superior human-Robot interaction capabilities, innovative bionic design language, cute modeling, multi-modal interaction and many other new functions, BellaBot provides the centre with an unprecedented premium delivery experience. Also, these two robots brought comfort to those frontliners, volunteers & public at the centre.
Dato' Dr Sahruddin Bin Jamal, Former Menteri Besar of Johor together with one of our CSR Committee Ms Fahizah and BellaBot.
Puductor2 is moving around the Vaccination Centre to do a a thorough disinfection, to improve the hygienic security of the centre.
We sincerely appreciate the memorable opportunity given to us by YBhg Datuk Hjh Azlinda Binti Abdul Latif, Advisor of Pertubuhan Kebajikan Kita Prihatin Negeri Johor (PRIHATIN JOHOR) to serve the community by using our Pudu robots – Puductor2 & BellaBot at the Vaccination Centre. We also would like to extend our special thanks to our Principal, Pudu Robotics for supporting us throughout the CSR program. We hope that this CSR Program will raise awareness of the importance of using intelligent robotic solutions in keeping everyone safe and protected at public places, especially area such as Vaccination Centre. It was definitely a great experience for serving the community! To learn more about our services, you are welcome to visit us at www.cyberport.com.my or call Cyber Robotic Team : 012-7233266/ 0177614603/ 0197271701 for further information.
Copyright ©2021 MSC Cyberport Sdn. Bhd. All rights reserved.