Intelligent Delivery Robot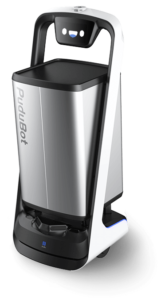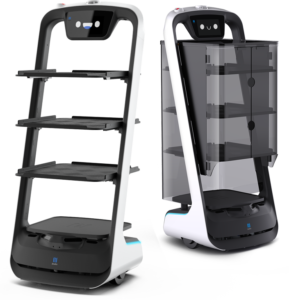 Pudubot will allow your business to automate and streamline repetitive tasks such as food and item delivery, marketing, message delivery and providing tour guide to customers. All while minimizing human to human interaction and keeping you safe!
PuduBot's new VSLAM solution provides more precise positioning and more stable operation
Revolutionary 3D obstacle avoidance solution provides faster perception and safer delivery
Adjustable Tray
Interactive Light Strip
LIDAR – New generation radar & More efficient SLAM mapping
Visual Positioning
Cruise Mode
Al – Aluminum Frames
3D Obstacles Avoidance
Flexible Dish Cover
PUDU SLAM –  This solution can ensure that the robot performs tasks more efficiently in a mixed environment
Environmental Perception
PUDU SCHEDULER
Technical Characteristics
Machine Dimension      :     516x500x1288mm
Machine Weight             :      35kg
Machine Material           :      ABS/Aviation-grade aluminum alloy
Charging Time                :      4h
Battery Life                      :      10 -24h 
Cruise Speed                   :       0.5-1.2m/s (Adjustable) 
Load Capacity                 :       13kg/tray, Max 30kg
Dish Cover Specification
Cover material                 :       Plexiglass/ Magnesium Aluminum                                                     Alloy
Cover Weight                   :       8kg
Cover Dimensions           :      422x422x710mm
Door-opening control      :      Magnetic switch
Wish to Get a Free Consultation?
Take this opportunity to know more on Pudu Robots!t! Fill in your details, we will contact you back and schedule a meeting for our first consultation session