A Delivery Robot That Features Pagering and Notifications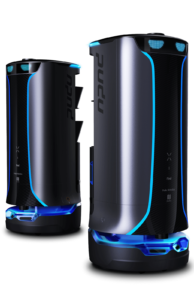 HolaBot is a delivery robot which innovatively applies autonomous robot to the food, medical and other fields. Equipped with intelligent delivery, high carrying capacity,pagering function and voice control module, HolaBot is aiming to boost the turnaround efficiency in restaurants and to help the establishment of smart hospitals.
The HolaBot is able to collect plates over 200 times per day. 
It can carry up to 120kg of dishes in one trip before returning to the kitchen. 
It will improve the efficiency of your business, and save you money in the long run.
The HolaBot has a IPX5 Waterproof inner-cabin to keep it safe from spills. 
There are multiple ways to issue orders to the HolaBot, including paging systems and voice control.
With 3x Intel RealSense RGBD camera's, HolaBot has unparalleled obstacle detection capabilities.
The independent suspension system ensures the HolaBot can adapt to all kinds of environmental conditions.
Technical Characteristics
Machine dimension          :      541mm×531mm×1226mm
Machine weight                 :      60kg
Machine material               :      ABS/aviation-grade aluminum alloy
Charging time                     :      4.5H
Battery lifetime                   :      10-24H (power exchangeable)
Cruise speed                       :      0.5~1.2m/s adjustable
Capacity of single shelf     :     15kg
Shelf dimension                  :     475mm×400mm
Standard shelf height         :     228mm/198mm/198mm/190mm(Top-dowm)
Pager parameters
Waterproof rating                :     IP67
Communication scheme    :     LoRa Ad Hoc Network Communication Scheme
Suitable for space               :     3000㎡[3]
LCD Screen Size                  :     1.3 inch TFT LCD screen
Wish to Get a Free Consultation?
Take this opportunity to know more on Pudu robots! Fill in your details, we will contact you back and schedule a meeting for our first consultation session